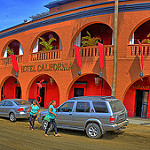 On 1 June, the company Hotel Callifornia Baja, LLC replied to the trademark infringement complaint filed by Eagles Ltd filed in early May this year. According to the owners of the hotel, the band's complaint is "meritless", since the Hotel California has been operated under said name since 1950. That is, 26 years before the Eagles' classic "Hotel California" 1976 single.
The owners add to this respect that the Hotel California and its affiliates have owned for many years Mexican and US trademark applications and registrations for its relevant goods and services, and claims no association with the Eagles, nor their famous "Hotel California" song.
A spokesperson for the band tells the Rolling Stone that "the Eagles' legal complaint spells out how the defendants have been shamelessly exploiting their supposed connection with the Eagles to sell unlicensed 'Hotel California' merchandise to unwitting tourists". "Confronted with their wrongdoing, defendants now say they 'claim no association with the Eagles' whatsoever. The facts demonstrate otherwise, and the Eagles look forward to putting an end to defendants' deceptive and unlawful conduct."
Eagles Ltd claims that the owners of the Hotel California purposefully play the Eagles' music to create a false connection between the group and the site. It also adds that although the hotel may began using the name Hotel California since 1950, it has experienced ownership and name changes over the past decades. The Eagles also alleges that the hotel sells merchandise, dubbing itself as the "legendary Hotel California", yet the only reason "Hotel California" can be considered "legendary" is because of the famous song.
The Eagles are seeking an injunction to prevent Hotel California from continuing to use said name, as well as related profits, damages and relief.
Written by: The UAIPIT Team
Source:https://www.forbes.com/sites/jesscollen/2017/06/01/welcome-to-the-hotel-california-trademark/#66e28b0f54c4

Image: https://www.flickr.com/photos/27190564@N02/20046577082