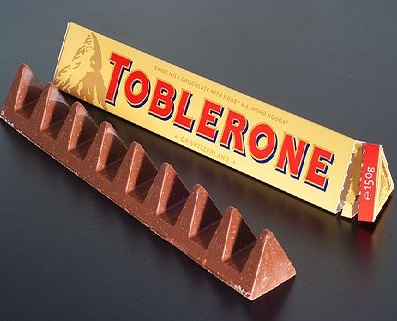 British variety store chain Poundland, selling almost all of its products for £1 claims that Toblerone's famous chocolate bar shape is no longer sufficiently distinctive to be considered a valid trade mark.
The budget chain intended to launch its own version of the Toblerone chocolate (the "twin peaks bar") bar last month, which was finally delayed after receiving a legal warning from the brand's owner, a Swiss division of Mondelēz. Mondelēz claims Poundland and its supplier Walkers Chocolates have infringed its trademarks on the overall shape of the bar, the pyramid-shaped chocolate chunk or "peaks", prism-shaped gold Toblerone packaging and the Matterhorn mountain logo. Instead of featuring the iconic Matterhorn on its red and gold packaging, the Poundland version featured the Wrekin, a hill in Shropshire near the company's head office, and was made in Birmingham rather than Switzerland.
The twin peaks bar was supposedly created as a response to the negative reception of Toblerone's new single peak chocolate bar with fewer chunks.
Poundland responded to Toblerone's warning claiming that the triangle prisme shape of the Toblerone bar, registered EUTM since 1997, is no longer distinctive partly given the launch of its new version – adding in this respect that any reputation enjoyed by the Toblerone bar trademark has been "irretrievably abandoned" by the launch of the new chocolate bar with bigger gaps between each peaked piece. Poundland adds that the 12 piece Toblerone bar is no longer available in the UK market whilst the new 11 piece bar has been sold since 2010.
This dispute brings Nestlé's long-running battle with rival Cadbury, regarding the trademark shape of the KitKat bar in the UK to mind. In the latest round, the court of appeal ruled that the four-finger design of Nestlé's product had "no inherent distinctiveness". We will have to wait and see if the Toblerone bar faces the same fate.
Written by: The UAIPIT Team
Source:https://www.theguardian.com/business/2017/aug/17/toblerone-shape-not-distinctive-enough-for-trademark-poundland-claims-twin-peaks
Image: https://commons.wikimedia.org/wiki/File:Toblerone_3362.jpg