Last 16 January 2018, the European General Court sided with coffee shop giant Starbucks against EU trade mark application for "coffee rocks", determining that "there are three sets of visual similarities between the signs at issue", including "the same general appearance" of "circular devices consisting of two parts".
The conflicting marks at issue are the following: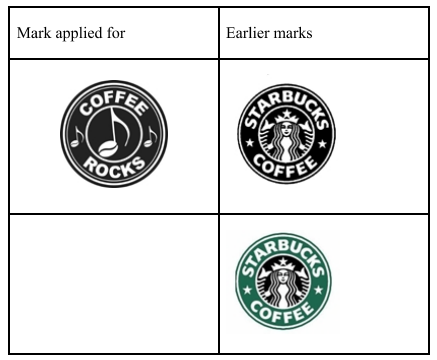 The applicant, Ms. Nerseyan, filed an application to register the abovementioned figurative mark as a EU trade mark (EUTM) for providing drinks (class 43) of the Nice classification. The application was published in November 2013, and Starbucks filed an opposition against the application, based on Articles 8(1)(b) and 8(5) of the EU trade mark Regulation (EUTMR). The EUIPO Opposition Division rejected the opposition in its entirety, which was later confirmed by the fourth Board of Appeal. Starbucks then appealed the decision to the General Court.
According to the General Court, the average consumer normally perceives a mark as a whole and does not engage in an analysis of its various details. Settled case-law has indicated that two marks are similar when, from the point of view of the relevant public, they are at least partially identical as regards one or more relevant aspects. Accordingly, even if the dominant elements (the word 'STARBUCKS' compared to 'COFFEE ROCKS') completely differ, it cannot be found that other elements are negligible in the overall impression provided by those marks. In addition, albeit its descriptive character, the common "COFFEE" element was taken into account, as it was considered to be found amongst the marks' dominant elements.
The General Court held that even though the word elements in a trade mark are, in principle, more distinctive than its figurative elements – the average consumer will in the present confuse the two marks given the signs general appearance as a whole, the phonetical similarity of the dominant elements "STARBUCKS" and "COFFEE ROCKS", and on the account of the word "coffee" in both marks which relevant public will confuse with the concept of a coffee shop; finally concluding that the contested decision must be annulled in so far as the Board of Appeal found that it was apparent from the dissimilarity of the signs at issue that the conditions for the application of Article 8(1)(b) and (5) of Regulation No 207/2009 were not satisfied and that the opposition therefore had to be rejected.
You can read the full text of the decision here (available in English and French): Case No.T‑398/16. General Court of the European Union. STARBUCKS CORP vs. HASMIK NERSESYAN/EUIPO
Source: https://www.politico.eu/article/eu-court-sides-with-starbucks-in-coffee-rocks-logo-battle/
Image: https://pixabay.com/en/starbucks-glass-coffee-beautiful-2346226/