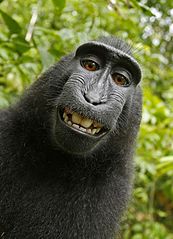 Last 23 April, the 9th U.S. Circuit Court of Appeals ruled that the monkey that took a selfie using a photographer's camera cannot sue for copyright. The appeals court said U.S. copyright law confers the right to sue on humans.
In 2011, Naruto, a crested macaque, snapped a photo with a smile using an unattended camera belonging to David Slater. According to the photographer, he left part of his equipment on the floor, when the monkey grabbed the camera and took the selfie.
The dispute began when the Wikimedia Foundation, a royalty-free database, refused to remove Naruto's selfie from its collection.
Slater argued that he owned commercial rights of the selfie, but PETA, an animal rights group, filed in 2015 a lawsuit that sought to give Naruto the copyright about the selfie.
In 2016, U.S. District Judge William Orrick stated that "Although the Congress and the Prime Minister can extend the protection of law to animals as well as humans, there is no indication that they did so in the Copyright Act". PETA appealed the decision before the 9th Circuit.
In September, the photographer and PETA reached a settlement under which Slater agreed to donate 25% of any future revenue from the images to charities dedicated to protecting crested macaques in Indonesia. The parties requested the 9th Circuit dismiss the case and Orrick's decision but the court refused.
Written by: Cristina García Alzina
Source: https://news.sky.com/story/selfie-monkey-naruto-cannot-sue-for-copyright-us-court-rules-11344799; https://www.debate.com.mx/mundo/mono-naruto-ingresos-fotos-virales-selfies-corte-demanda-20180423-0308.html; https://www.elpais.com.uy/vida-actual/humano-gana-caso-selfie-mono.html
Image: https://commons.wikimedia.org/wiki/File:Macaca_nigra_self-portrait_large.jpg